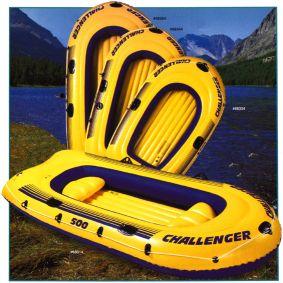 BRAND NEW INFLATABLE CHALLENGER KAYAKS and BOATS
Rugged SUPER-TOUGH™ high-molecular vinyl construction. Super-Tough is a high molecular PVC that is unaffected by gasoline, oil and salt water. It is highly resistant to damage from abrasion, impact and sunlight. It also permits more air pressure for rigidity. Includes all-around grab-line, inflatable I-beam floor, grab handle at bow, welded oar locks and repair patch. U. S. Coast Guard I.D. RWTUV approved. The Challenger 300, 400 and 500 include inflatable seat cushions and can use our optional motor mount. Boats do not have a warranty or guarantee for punctures/loss of air.
The approximate weight capacities are: Challenger 200 - 265lbs, Challenger 300 - 345lbs, Challenger 400 - 528lbs, Challenger 400 - 530lbs. , Challneger 500 - 530lbs
Available in one person, two person, three person, four person and five person boats. Two and Three person Challenger Boats are also available in sets with pump and paddles. Only the Challenger 3, Challenger 4 and Mariner Boats can add the optional Motor Mount below.