Adjustable Flexing Headrest on all
NEW & Factory Refurbished Perfect Chairs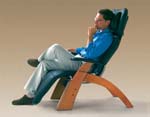 PERFECT CHAIR ZERO-GRAVITY SPECIALS:


Human Touch Zero-Gravity Perfect Chair Recliner - Now is the time to become acquainted with the Human Touch Zero-Gravity Perfect Chair. Developed by the US space program for our astronauts, the Human Touch Zero-Gravity Chair position helps to remove any pressure on your spine, hips and knee joints. Human Touch developed the Zero-Gravity Perfect Chair® to release strain and pressure on your back, relieve muscle tension, soreness, fatigue and improve blood oxygen levels with the increased blood flow promoted in the zero gravity position. In the Zero-Gravity position, your body achieves decreased blood pressure and pulse rate. The Perfect Chair® cradles your body in a proper alignment at all recline levels to allow for complete relaxation. Refresh, recharge and revive!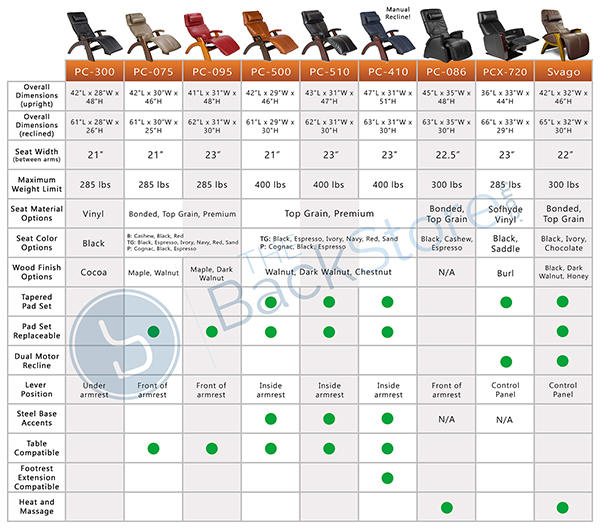 *WARRANTY INFORMATION:

New and Factory Renewed Series 1 Perfect Chairs (PC-6, PC-075 and PC-095) include a 1 year limited warranty. The Chair Frame and Structure are covered for one year from the original date of purchase. Parts are covered for one year from the date of purchase. Optional Extended Warranties can be purchased for a In-Home Parts and Labor service warranty of 2 or 5 years from the invoice date. The warranty is not valid if the product has been misused or damaged in any way that is beyond the control of the manufacturer. The chair (or parts) will need to be returned to the manufacturer for service by technicians. Chairs are packed for shipping and require assembly. Detailed Warranty information.
Refurbished Chairs include a 90 Day Parts Warranty. Parts are covered for 90 Days from the original date of purchase. Optional Extended Warranties can be purchased for a In-Home Parts and Labor service warranty of 2 or 5 years from the invoice date. The warranty is not valid if the product has been misused or damaged in any way that is beyond the control of the manufacturer. The chair (or parts) will need to be returned to the manufacturer for service by technicians. Chairs are packed for shipping and require assembly. Detailed Warranty information