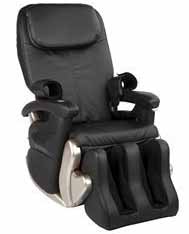 HT-5320 Human Touch Home Massage Chair / Recliner + Arm and Thigh Cuff Massage - The Human Touch® HT-5320 envelops the body in an array of the most advanced full-body massage systems available, soothing muscles from head to toe. This remarkable chair is loaded with features typically found in chairs twice the cost, to deliver a personalized massage experience that satisfies your every whim. Take a seat in the HT-5320, position your legs in the extendable, vibrating foot and calf massager, adjust the stowable arm and thigh massage sleeves, and take full control of your massage with the convenient 3D remote control. The Acupoint Detection sensors automatically locate your acupressure points and our patented Robotic Massage System eases away pain, tension and fatigue, as it emulates the same techniques used by massage professionals. You can even target specific back zones and positions to melt away trouble spots with pinpoint precision. With the HT-5320, the power to personalize your massage and maximize your indulgence is right at your fingertips.
Robotic Human Touch Massage Chair Comparison Chart.

HT-5320 Black PU Model Number: 100-5320-001 - UPC: 045915808853
HT-5320 Dark Chocolate PU Model Number: 100-5320-002 - UPC: 045915809799
HT-5320 Black BL Model Number: 100-5320-003 - UPC: 045915814168
HT-5320 Espresso BL Model Number: 100-5320-004 - UPC:045915814175
_


Exclusive features of the HT-5320 include:

Human Touch Technology™ -- the most advanced robotic massage system available.
Stretching Massage Mode.
Adjustable Neck Pillow: Contoured-Comfort Neck Pillow.
Acupoint Detection System: To ensure an effective and targeted massage for all body sizes, types and pressure points, Acupoint scans the entire length of the back to create a map of key pressure points to target during the massage.
Adjustable Power Recline Backrest: With the push of button, you can adjust the angle of the backrest.
Arm and Thigh Massage Sleeves: The only chair to offer this feature. Lets you comfortably adjust the easy-fit slow-air sleeves for a unique arm and thigh massage. Easy stow in the armrests when not in use.
Extendable Foot and Calf massager: Leg and Foot Massager extends out for those taller individuals.
Bonded Leather and Faux Leather Upholstery: Bonded Leather and Faux Leather upholstery is secured directly to the frame for maximum durability and aesthetics. There are no loose pads or sliding pillows to get in the way of premium massage comfort and performance. New Chairs are only available in Faux Leather Vinyl (PU). We have some refurbished Bonded Leather and Faux Leather Chairs left in stock.
Pulsating Seat Massage System: Innovative feature provides a relaxing air massage to the body's largest muscles.
Adjustable Footrest Height: Adjust the height of the footrest to ensure your complete comfort at all times.
Refurbished Chairs include a 90 Day Parts Limited Warranty.*
Extended 2 and 5 year Human Touch Factory Warranties are available on New and Refurbished Chairs.
FREE Standard Curbside Delivery to the lower 48 states

SALES TAX is INCLUDED on New Chair Orders.





Arm and Thigh Massage Sleeves




Foot Extension Lever




Extendable Calf and Foot Massager




Pocket for Remote




Ergonomic Remote




Remote Pocket




Armrest Control




Wheels for Easy Mobility


Click Here for More Massage Chairs

*WARRANTY INFORMATION: Refurbished Massage Chairs have a 90 Day limited residential use warranty for parts only. Chairs are packed for shipping and require minor assembly. White Glove delivery, setup and box removal is available on all chairs to most US addresses for an additional fee. Warranty is not valid for chairs shipped out of the United States and Canada. In-Home Service is only available in the US 50 states and most major Canadian Cities. Extended warranties are available on New HT-5320 Massage Chairs. More Warranty Information.