Stressless® Mayfair Medium Recliner Chair Norwegian Ergonomic Scandinavian Lounger with Matching Ottoman
Stressless Mayfair Medium Large Recliner Chair Lounger and Ottoman from Ekornes - The Stressless Mayfair Medium Norwegian Ergonomic Scandinavian Recliner is a chair that can swivel a full 360 Degrees around. The recliner and the free-standing ottoman come with a unique Glide system which follows your bodys movement to provide perfect support and comfort. You can select from Fabric, Batick Leather, Paloma Leather, Classic Leather or Royalin Leather Pads in a large selection of colors and styles.

This model features a forward adjustable headrest.



BRAND NEW IN BOX CLEARANCE COLORS:
PALOMA KITT and PALOMA MOCCA - ALL SIZES and ANY WOOD BASE (E-mail for Price)
| | |
| --- | --- |
| | |
| | |
| | |
| | |
| | |
| | |

Ekornes Stressless Mayfair Recliner Chair Brochure

We stock many colors for immediate fast shipping. Call or click for more information.
Also select from our discounted Floor Models for even more savings.
Stressless Chelsea - Small
Recliner: W:29.5 H:39.4 D:28.7"
Stool: W:21.7 H:15 D:15.4"
Seat Height: 15.7"

Stressless Mayfair - MEDIUM
Recliner: W:31.9 H:40.6 D:28.7"
Stool: W:21.7 H:15 D:15.4"
Seat Height: 15.7"

Stressless Kensington - LARGE
Recliner: W:35.4 H:40.6 D:30.3"
Stool: W:21.7 H:15 D:15.4"
Seat Height: 16.5"
Matching Sofas: Stressless Buckingham and Windsor.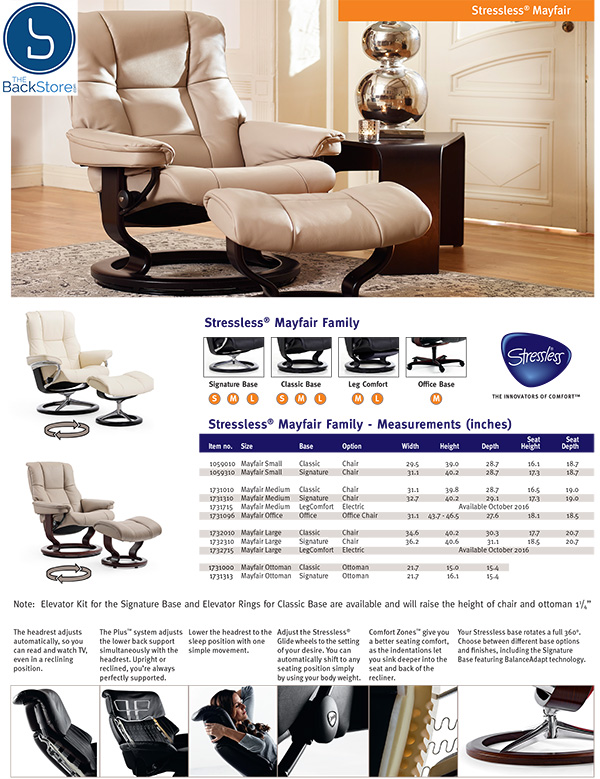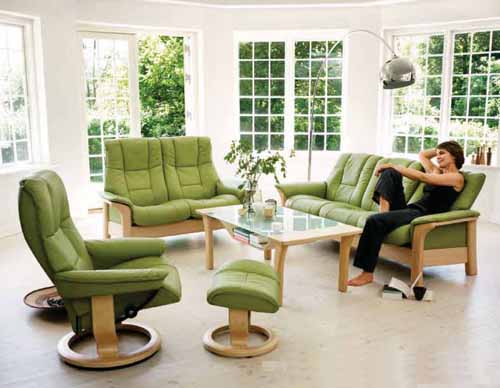 Streeless Windsor Sofa, Table and Mayfair Recliner in Paloma Green / Natural Wood Finish.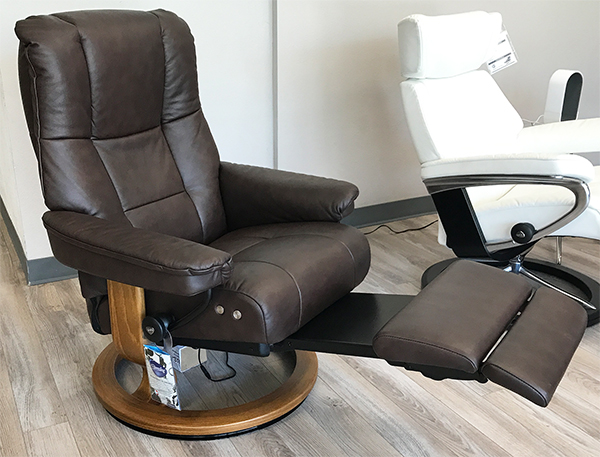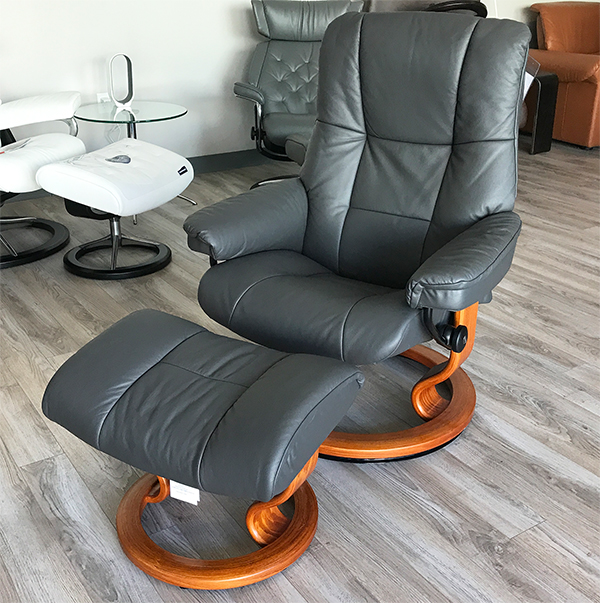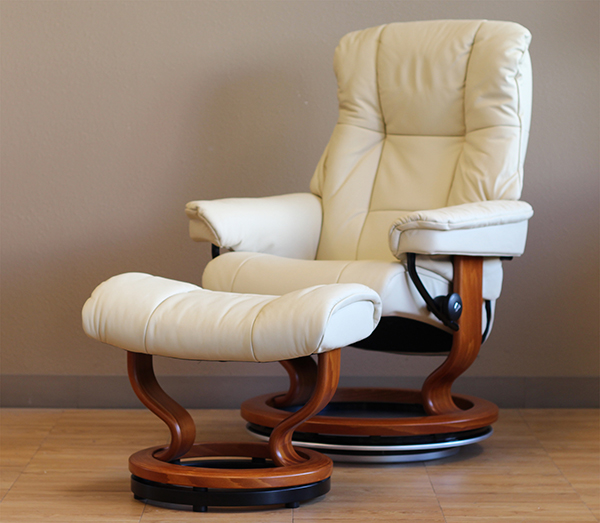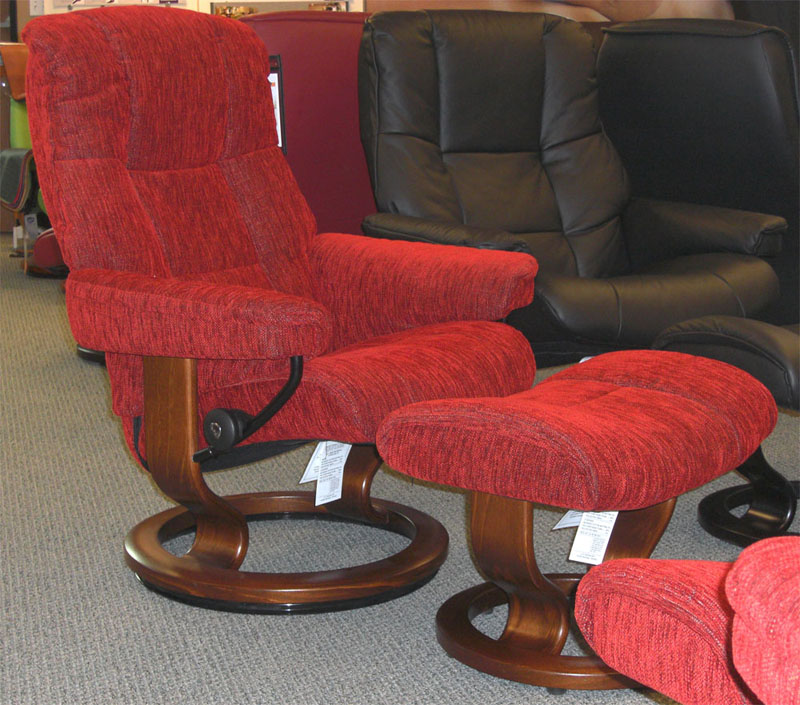 Mayfair Medium Red Cocoon Fabric Recliner Chair and Ottoman

Mayfair Medium Paloma Taupe Recliner Chair and Ottoman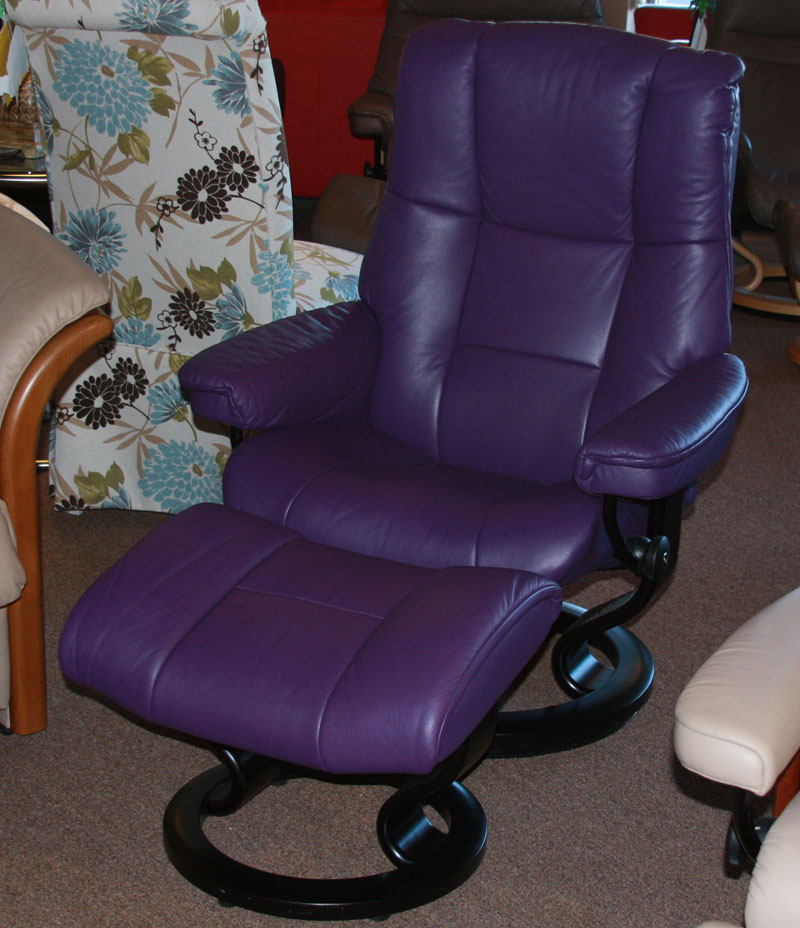 Mayfair Medium Paloma Lilac Recliner Chair and Ottoman

Mayfair Medium Paloma Oxford Blue Recliner Chair and Ottoman


Mayfair Medium Paloma Sand Recliner Chair and Ottoman