Fjords 775 Ulstein Ergonomic Swing Recliner Chair Norwegian Scandinavian Lounger


Fjords Large Ulstein Swing Recliner Dimensions:
40.5" H x 32.5" W x 34.5" D
Seat Depth 21" - Seat Height: 18.7"
Seat Width 20.5" - Arm Height 24.5"
Fjords Ulstein Swing Recliner with 360 degree rotation for manual and around 90 degress for the power recline model.
Optional Power Recline to make it much easier to recline and get the chair upright. Select from Nordic Line (NL) leather, Soft Line (SL) Leather and the Premium Astro Line (AL) Leather.
* - Denotes a Quick Ship Leather or Fabric Color Chair.
** - Denotes a Custom Order 3-4 month lead time color or fabric.
Please Note: Stocking Colors for the Electic Power Recline Ulstein are Sandel and Havama Only.
Stocking Colors for Fast Shipping of the Manual Ulstein Swing Recliner:
| | | | |
| --- | --- | --- | --- |
| | | | |
| Black Leather NL | Havana Leather NL | Sandel Leather NL | Cappuccino Leather NL |
| | | | |
| | Hassel Leather SL | Latte Leather SL | |


Pictured above is the Zero Gravity Model. This version of the Ulstein Chair will take 10-12 weeks from the factory. Only the Swing Recliner is Stocked in the USA.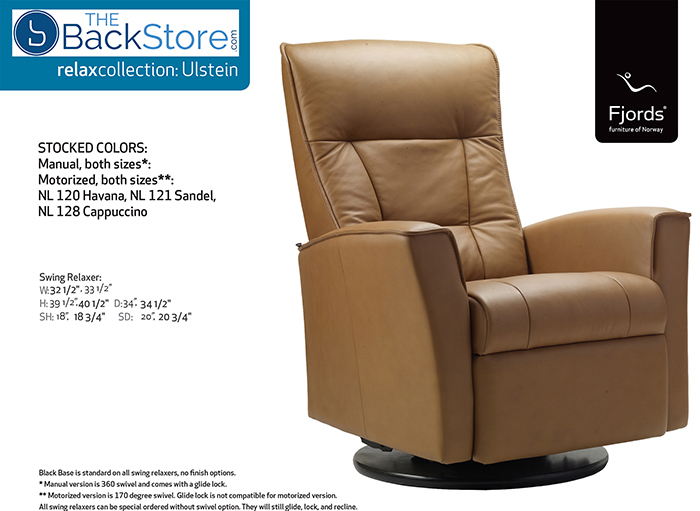 Fjords relaxers have unique comfortable properties in all positions. Continuous back adjustment, combined with an integrated footrest and a comfortable rocking function make this a very practical and comfortable choice. It is supplied with 360 degree rotation. Genuine Fjords Leather Recliners feature the Fjords Active Release System. It is a unique integrated mechanism providing the best support for the neck. When desired, it can be adjusted with a single movement to optimize your sitting experience. It is an ergonomically designed chair that provides continuous support and comfort. It helps to prevent your legs and back from getting tired, relax your body and enable your blood to circulate more freely. It is designed to support your spine more correctly comfortably in the correct angle. Fjords utilizes cold cure molded foam in the seat, back, armrest and ottoman. Cast molded cold cure foam retains its suppleness longer than standard block molded foam in order to retain its durability and physical appearance. The unique gliding mountings that are built in to the chairs provide he best individual resting position. The weight of the body determines the chair position.